**This post contains affiliate links and I will be compensated if you make a purchase after clicking on my links
Remember ALOHA's super popular Free Trial Smoothie Kits? You may not because they were actually so popular ALOHA ran out of stock! The good news is these deliciously nutritious smoothie packs are back! Each smoothie pouch is loaded with quality ingredients that will give you a broad spectrum of nutrients, proteins, vitamins and minerals. These Smoothie Kits can make for a healthy meal replacement, or even a satisfying post-workout snack.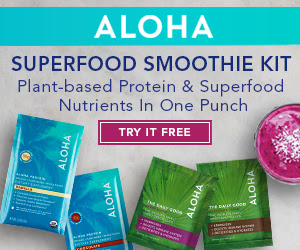 2 ALOHA Protein packs in chocolate and vanilla
3 Daily Good Greens pouches filled with fiber, superfoods, and loaded with vitamin D
If you're not sure what your favorite flavor blend is, try out ALOHA's Free Trial Smoothie Kit. It's a great way to try out their different smoothie flavors while still getting the nutrition your body needs!
Love Giveaways? Check out my current giveaways here and my current blogger opps here!
Don't Forget to Vote For Me Today!