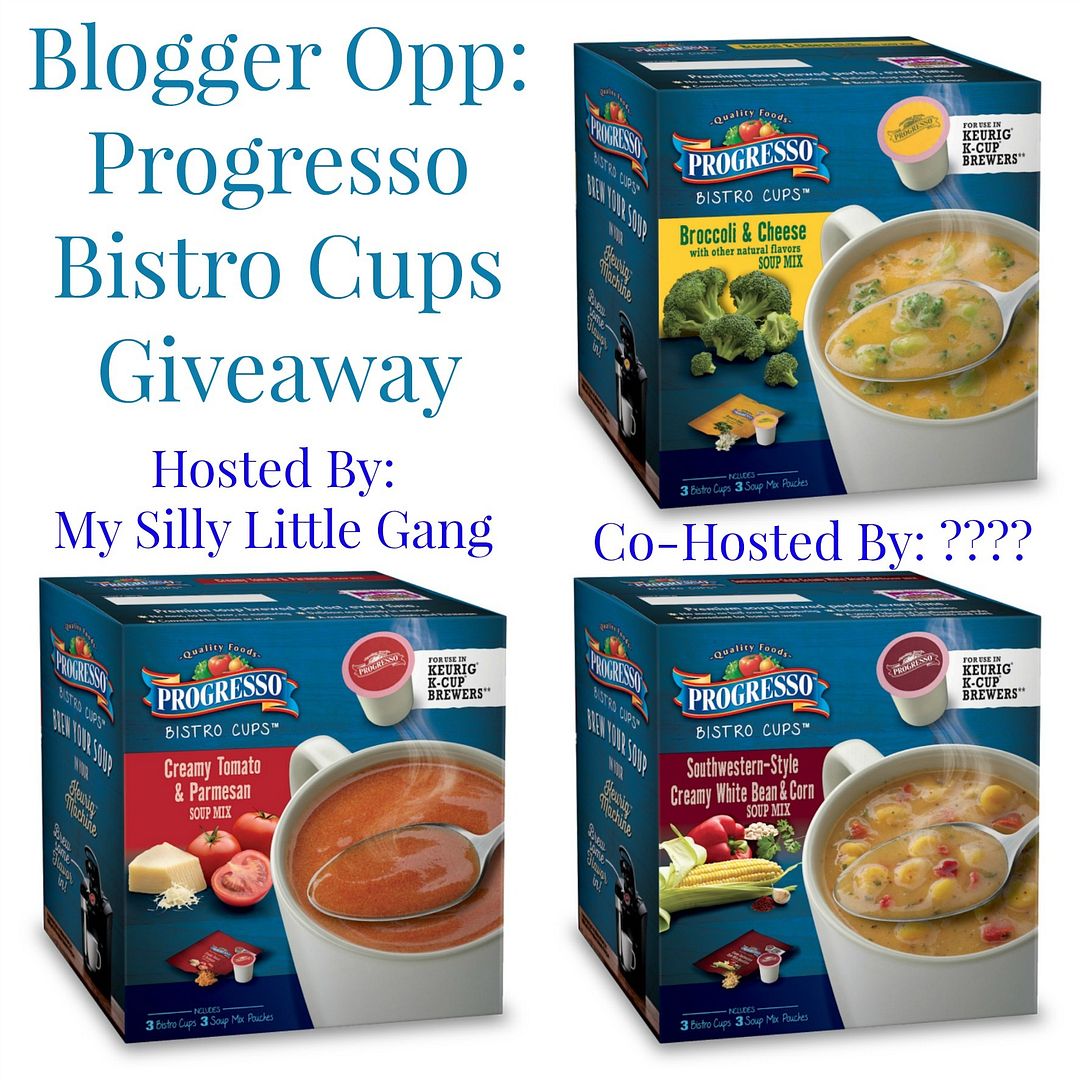 Blogger Opp: Progresso Bistro Cups Giveaway!
Sponsored by: Bistro Cups
Hosted by: My Silly Little Gang
One lucky winner will receive their 1 Box of each of the following flavors: Broccoli & Cheese, Creamy Tomato & Parmesan and Southwestern-Style Creamy White Bean & Corn.
When I heard about these new Progresso Bistro Cups I was super intrigued. I mean how could it be possible to make soup using a single serve brewer! I am thrilled with all three varieties of these bistro cups from Progresso. Each bistro cup and soup mix pouch is cream-based, with 170-250 calories, 6-10g fat, 600-850 mg sodium, 22-38g carbs, <1-12g fiber, 3-9g sugars, and 3-11g protein.
I hope you'll join me in promoting this giveaway!
Now…. I Really Need Your Help Promoting So Please Sign Up Today! Thanks so much!
As Always, 2 FREE links (Facebook Visit or Twitter)


Co-Hosts are needed: $7 for 3 links of your choice you can choose ANY other than Google+. You can do Facebook Comments, Blog Comments, Giveaway Entries, Daily Votes, Social Media Follows of your choice, ANYTHING! 3 links PLUS the 2 FREE links above gives you a total of 5 links! Co-Hosts will also be promoted via graphics and link backs to their site via extra follow pages! # of extra follow pages depends on # of sign ups so please promote, promote, promote! No one is required to post announcement but it is greatly appreciated!
Other Sign Up Options Available On Sign Up Form
Sign Ups Close 10/5 at Noon EST.
Open To US Residents who are 18+.
Giveaway Dates: 10/7 12 AM EST until 10/21 11:59PM EST
The Blogger With The Most Referrals will Receive a FREE Co-Host Spot! If you signed up to co-host and you are the person with the most referrals, you will be refunded! Promote Away and Make Sure They Say You Sent Them! You must have a minimum of 3 referrals to win free spot.
Love Giveaways? Check out my current giveaways here and my current blogger opps here!
Don't Forget to Vote For Me Today!